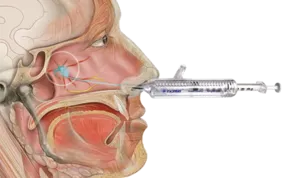 For years scientists have known that migraine, headache and facial pain is controlled by a nerve cluster called the Sphenopalatine Ganglion (SPG) located in a difficult to reach area of the nasal cavity. The challenge has been, how to get medication or a topical anesthetic to the SPG to provide immediate headache relief without painful treatments or even invasive surgery. With the MiRx Protocol, the solution is as simple as a nasal spray. The procedure isn't painful and take seconds.

How MiRx Works
The MiRx Protocol is a treatment program designed to treat migraine, headache, facial pain, and head pain. The protocol is made up of two parts. The first stage of treatment stops the reaction of the nervous system and alleavates the headache pain. This is refered to as the medical component. The second stage of the MiRx Protocol treats and rehabilitates the underlying condition, which is the physical component. These two combined can effectively eliminate the conditions causing your headache or face pain. These two components work together to provide long-term migraine relief.
How MiRx Works - Simple As A Nasal Spray
It starts with an ingenious applicator and a simple nasal spray. Because the SPG is located deep in the nasal cavity, a normal nasal spray cannot reach the desired location. Unlike other nasal sprays, the revolutionary, Tx360™ nasal applicator has a soft flexible extension that allows the anesthetic agent to be sprayed directly on to the SPG. There are no needles.